# Snapshots Editor
WARNING
Please note, Snapshots Editor is still in development and therefore the feature set is somewhat limited. We are Working on an update.
# Snapshots
Snapshot is a saved state of the preset. Imagine that you were tweaking sound using an Electra One preset. At some point you reached sound that you really like. Saving a snapshot allows you to permanently save all the preset values to Electra One controller.
Snapshots stored in the controller can be, of course, re-called later.
Electra One can store up to 432 snapshots per preset. They are organized in 12 snapshots banks, each with 36 snapshots.
# Editor
The Snapshots editor can be opened by clicking the SNAPSHOTS button on the preset detail. The editor always loads all the snapshot data from the Electra One controller. That means, the controller must be connected to the computer when you want to edit the snapshots.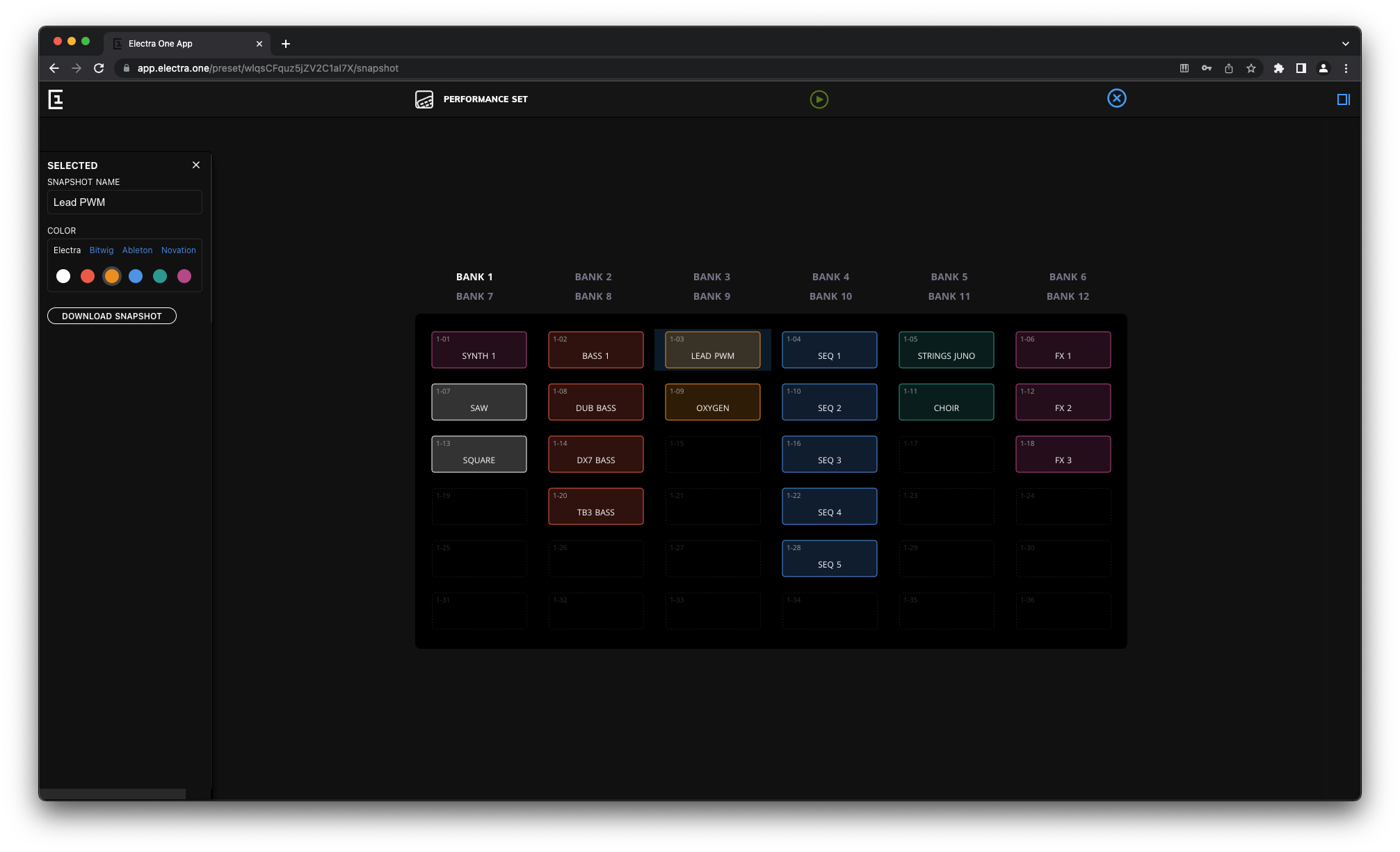 The editor window consists of two sections:
Grid
Sidebar panel
# The grid
The grid is a representation of Electra One display in the Snapshot editor. Saved snapshots are displayed there in the same way as you see them on the hardware controller.
The grid allows you to:
select the snapshots
move snapshots around to new locations
remove the snapshots
The list of snapshot banks is located above the grid. Snapshot banks can be switched by clicking the bank name.
Snapshots are moved to new location on the grid by dragging them with a mouse. Cut and paste can be used too.
# The sidebar panel
The sidebar panel shows information about currently selected slot. When the slot contains a save snapshot, a snapshot detail is shown. It allows users to modify name and colour of the snapshot. There is the donwload button to save the snapshot to a file.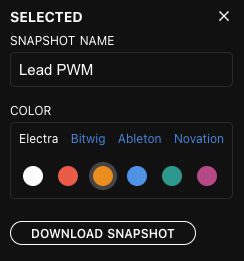 For empty slots, an option to import a snapshot from a file is provided. The imported snapshot is stored in currently selected slot location.